There are several varieties of cactus growing in the Cactus Garden. Some of them are native to this area and some are not, but all of them must withstand the below freezing winters of Northern New Mexico.
---
Pincushion Cactus
(These were all eaten by rabbits during the winter.)
| | |
| --- | --- |
| | |
| The Plant | The Plant w/ Flowers |
| | Blooms mid-July |
Coryphantha (Escobaria) vivipara

Pediocactus simpsonii

(from Colorado)

Blooms at the end of May

Blooms in mid-April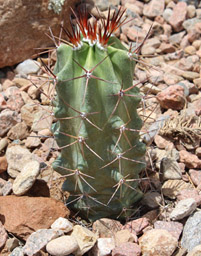 Ferocactus hamatacanthus
'"Texas Blue Barrel"
---
Echinocactus Types
(These were all eaten by rabbits during the winter.)
| | |
| --- | --- |
| | |
| Plant w/flowers | Flower |
Blooms late April-early May
Echinocereus reichenbachii

'Purple Candle'

Echinocereus reichenbachii v. albispinus

Blooms early June

Blooms mid-April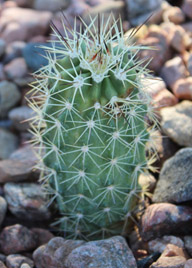 Echinocereus coccineus 'Pink' Select cross Oro Grande Type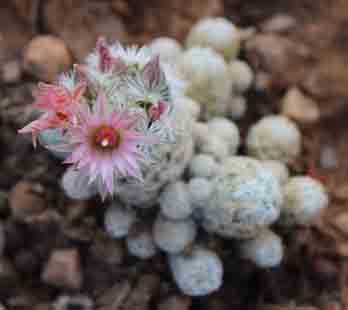 Escobaria leei - 'Lee's Dwarf Snowball'
Blooms mid-April
Texas Rainbows - Echinocereus dasycanthus
| | |
| --- | --- |
| | |
| Plant w/Flowers | Flower |
| Blooms at the end of May | |
Echinocereus triglochidiatus 'Claret Cup'
The Plant

The Flowers

Blooms at the end of May
Echinocereus coccineus 'Claret Cup'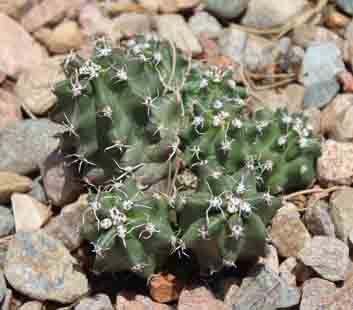 Echinocereus triglochidiatus
'Spineless Claret Cup'
---
Various Prickly Pear - Opuntia sp. Varieties
| | |
| --- | --- |
| | |
| Texas Prickly Pear | Texas Prickly Pear flower |
| Plant w/flowers | Blooms early June |
| | |
| --- | --- |
| | |
| Plant w/Flower | Flower |
Opuntia fragiliis - Rutalia Hybrid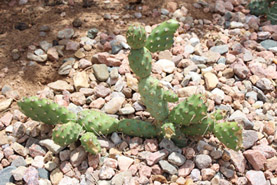 Opuntia fragiliis-var-denudata
---
Various Cholla Varieties
| | |
| --- | --- |
| | |
| Plant w/flowers | Flowers |
| | Blooms early June |
| | |
| --- | --- |
| | |
| Plant w/flowers | Flower |
| | Blooms mid-June |
Cholla, Santa Fe - Opuntia viridiflora
| | |
| --- | --- |
| | |
| | With Fruit |
Arizona Pencil Cholla - Cylindropuntia arbuscula
Whipple's Cactus 'Snow Leopard' - Cylindropuntia whipplei
---
Miscellaneous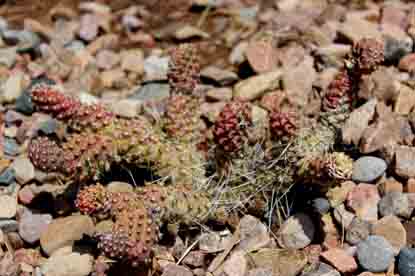 Oufragilis scherinae 'Red'