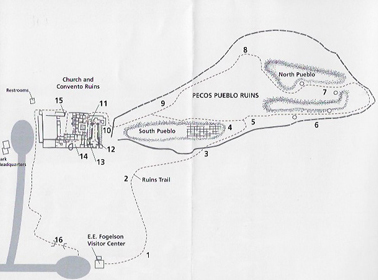 Across path in front of church #10 (N35D33'00.191 X W105D41'22.392)
---
Flowers first observed: Did not bloom in 2017
---
The Tree

---
Distribution
"is a deciduous tree in the rose family best known for its sweet, pomaceous fruit, the apple. It is cultivated worldwide as a fruit tree, and is the most widely grown species in the genus Malus. The tree originated in Central Asia, where its wild ancestor, Malus sieversii, is still found today. Apples have been grown for thousands of years in Asia and Europe, and were brought to North America by European colonists. Apples have religious and mythological significance in many cultures, including Norse, Greek and European Christian traditions." (Wikipedia)

---
Description
"The apple is a deciduous tree, generally standing 1.8 to 4.6 m (6 to 15 ft) tall in cultivation and up to 12 m (39 ft) in the wild.[4]When cultivated, the size, shape and branch density are determined by rootstock selection and trimming method. The leaves are alternately arranged dark green-colored simple ovals with serrated margins and slightly downy undersides.[5]
Blossoms are produced in spring simultaneously with the budding of the leaves, and are produced on spurs and some long shoots. The 3 to 4 cm (1.2 to 1.6 in) flowers are white with a pink tinge that gradually fades, five petaled, with an inflorescenceconsisting of a cyme with 4–6 flowers. The central flower of the inflorescence is called the "king bloom"; it opens first, and can develop a larger fruit.[5][6]
The fruit matures in late summer or autumn, and cultivars exist with a wide range of sizes. Commercial growers aim to produce an apple that is 7.0 to 8.3 cm (2.75 to 3.25 in) in diameter, due to market preference. Some consumers, especially those in Japan, prefer a larger apple, while apples below 5.7 cm (2.25 in) are generally used for making juice and have little fresh market value. The skin of ripe apples is generally red, yellow, green, pink, or russetted although many bi- or tri-colored cultivars may be found.[7]The skin may also be wholly or partly russeted i.e. rough and brown. The skin is covered in a protective layer of epicuticular wax.[8] The exocarp (flesh) is generally pale yellowish-white,[7] though pink or yellow exocarps also occur. (Wikipedia)
---
Ethnobotanical Uses
Food:
"Apples are an important ingredient in many desserts, such as apple pie, apple crumble, apple crisp and apple cake. They are often eaten baked or stewed, and they can also be dried and eaten or reconstituted (soaked in water, alcohol or some other liquid) for later use. When cooked, some apple cultivars easily form a puree known as apple sauce. Apples are also made into apple butter and apple jelly. They are also used (cooked) in meat dishes
In the UK, a toffee apple is a traditional confection made by coating an apple in hot toffee and allowing it to cool. Similar treats in the U.S. are candy apples (coated in a hard shell of crystallized sugar syrup), and caramel apples, coated with cooled caramel.
Apples are eaten with honey at the Jewish New Year of Rosh Hashanah to symbolize a sweet new year.[62]
Farms with apple orchards may open them to the public, so consumers may themselves pick the apples they will purchase.[62]
Sliced apples turn brown with exposure to air due to the conversion of natural phenolic substances into melaninupon exposure to oxygen.[64] Different cultivars vary in their propensity to brown after slicing[65] and the genetically engineeredArctic Apples do not brown. Sliced fruit can be treated with acidulated water to prevent this effect.[64] Sliced apple consumption tripled in the US from 2004 to 2014 to 500 million apples annually due to its convenience.[66]." (Wikipedia)
---
Internet Links