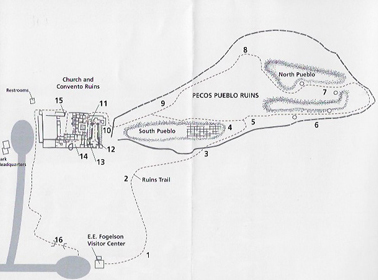 Location
Along the trail between #2 & #3 (N35D33'04.410 X W105D41'21.258) and #8 &#9
---
Flowers first observed: 7/7/17
---
The Plant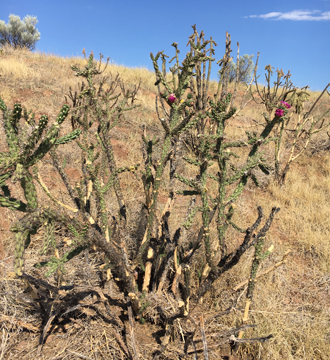 The Flower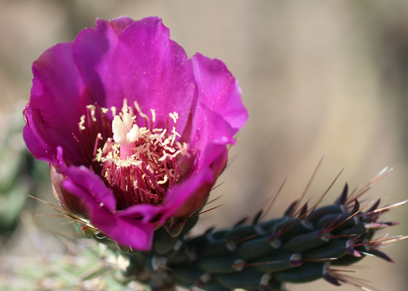 ---
Distribution
"Cylindropuntia imbricata, tree cholla, is found in a wide range of environments, from the hot deserts of west Texas to the Colorado mountains above 6,000 feet." (American Southwest)
---
Description
"It has stout, quite thick branches, bearing fairly short white or light brown spines, 10 to 30 per areole (occasionally fewer), that allow the green stem color (purplish in times of cold weather) to be clearly visible, and the plant reaches heights of 8 feet, with most stems quite high above the ground, supported by a strong central trunk.

The attractive violet flowers are followed by knobbly orange fruits that stay attached to the plant for many months. Spines grow from elongated tubercles, which help differentiate the plant from similar species in its range, principally the cane cholla." (American Southwest)
---
Ethnobotanical Uses
Food:
"(Acoma) Young joints split lengthwise, dried, and stored for winter use. Joints roasted and eaten. (Apache, White Mountain) Fruit dried for winter use. Fruit eaten raw or stewed. (Keres, Western) Roasted joints used for food during times of famine. (Papago) Eaten as greens in summer. (Tewa of Hano) Fruits boiled and eaten with sweetened cornmeal porridge." (Moerman 367)
"Historically, cholla is said to have been a famine food. The dethorned joints, flower buds, and fruit were all eaten, but only in time of great need. However, it may have been a common but forgotten staple. A 1915 record at Zuni relates that the fruit was eaten raw and stewed or dried for winter use. The dried fruit was ground into a flour, mixed with parched cornmeal, and made into a mush.
Nowadays, only the buds of this plant tend to be mentioned in cooking recipes." (Dunmire and Tierney 142)
Medicine:
"The brilliant magenta flowers are made into a tea and taken as a diuretic." (Moore 65)
"(Keres, Western) Ground needle coverings made into a paste and used for boils. Dried stem pith used for earache and running ear. Thorn coverings eaten by men in times of war to make them tough." (Moerman 367)
"Drink a tea made from the roots to break up and dissolve kidney stones." (Oscar from Oscars Tree Service, Santa Fe, NM)
Other Uses:
"These are sometimes gathered for canes, picture frames, or as souvenirs; and this probably accounts for its being called cane cactus.
After a particularly bad forage year, ranchers burn off its spines so that their stock may feed on the green stalks.
New Mexicans sometimes use it as a hair tonic. The roots are soaked in cold water for three or four days. Then, to check falling hair and to stimulate growth, the head is first shampooed and afterward rinsed with the infusion." (Moore 65)
"(Keres, Western) Thorns used as sewing material and for tattooing. Dried woody stems used for candles and torches before the presence of other forms of lighting. Red flowers used as an indicator of when to plant beans." (Moerman 367)
---
Internet Links