Pinion Pine - Pinus edulis
Food:
"Containing over three thousand calories per pound, pinion nuts must have constituted the most valuable local wild plant food source for many prehistoric peoples living in the pinion-juniper ecozone. Moreover, the biological value of its protein on a per-pound basis is comparable to that of beefsteak and exceeds that of all commercial nuts, with the exception of the cashew. The pinion also contains all twenty amino acids that make up complete protein, and of the nine amino acids essential to human growth, seven are more concentrated in pinion nuts than in corn." (Dunmire and Tierney 97)
Recipe 1: Pine Nut Trail Mix
"Pine nuts can be used raw or lightly toasted.
In a bowl combine 1/2 cup pine nuts and any of the following: fat tender raisins, dried currants, walnuts, dried apples, dried cherries, granola, chocolate chips. Bring on trail hikes for an energizing snack.
Variation: Combine 1 teaspoon honey and 1 tablespoon canola oil, and mix very well. Stir into fruit and nut mixture until mixture is lightly coated with the oil-and-honey mixture. Spread onto a cookie sheet and bake at low heat, 225 degrees F until just browning on the edges. You can also use the food dehydrator. Remove and let cool. Break into pieces, and pack as a trail snack.
Recipe 2: Classic Dairy-free Basil Pesto
Blend well in food processor 1 cup pine nuts, 4 cups packed fresh basil, 6 cloves fresh garlic, 3/4 cup olive oil, and 1/8 teaspoon each of salt and pepper. Serve on toast, dehydrated zucchini slices, or pasta.
Variation: Substitute fresh mint for basil. Add 1 fresh jalapeno." (Morgan 234-5)
Medicine:
"Pine pitch was chewed to soothe sore throats and sweeten bad breath and was taken internally to treat kidney problems and tuberculosis. Warmed sap was applied to sore muscles, arthritic joints, swellings and skin infections. It was also heated until it turned black, mixed with bone marrow (1 part marrow to 4 parts sap) and used as a salve for burns." (Kershaw 36)
"(Apache, Mescalero) Needles burned and smoke inhaled for colds. (Apache, Western) Heated pitch applied to the face to remove facial hair. (Apache, White Mountain) Leaves chewed for venereal diseases. (Havasupai) Poultice of melted gum applied to cuts. (Hopi) Poultice of gum used to exclude air from cuts and sores. Plant used for 'consumption.' Gum applied to forehead as a protection from sorcery. (Isleta) Gum mixed with tallow and used as a salve for cuts and open sores."(Moerman 406)
Other Uses:
"At Jemez (Pueblo), in the early part of the twentieth century, a red pottery paint was obtained by mixing the resin of old and new trees. Also at Jemez, a blue-green or turquoise paint was fabricated by boiling pinion gum. An all-purpose glue could be made by warming the pitch, and this was used to secure turquoise in jewelry settings and sinew to the back of bows. With the addition of a wrap of wet sinew, pinon glue was also used to secure stone points and feathers to arrows." (Dunmire and Tierney 98)
"(Apache, Mescalero) Young trees used for the main hoop of infant cradleboards. (Havasupai) Wood used for house construction. Melted gum used to plug a leaky canteen or other containers. (Hopi) Gum used in the preparation of certain dyes. (Apache, Mescalero) Pollen used instead of cattail pollen in ceremonies. Resin used for waterproofing woven water jugs." (Moerman 407)
---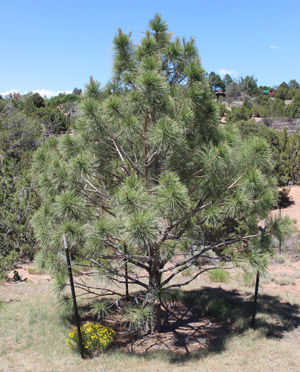 Ponderosa Pine - Pinus ponderosa
Food:
"In times of need Puebloans and other groups of Indians in the Southwest would chew the soft inner bark, or cambium, of the ponderosa for its nutritional value. --- At San Juan Pueblo, ponderosa needles have been chewed as a cold sore remedy, and a decoction, or boiled concentrate, of the root used to be drunk for urinary problems. The needles, which contain vitamin C, make a pleasant tea.
--- The oil-rich seeds are also edible. They were shaken from the cones and ground into meal that was used to make bread. The young, unopened male cones can be boiled as an emergency food. The young needles, finely chopped, can be used to make tea. (Kershaw 37)
Recipe 1: Ponderosa Needle Tea
"Harvest a half-handful or so of needles. Place in tea steeper with 2 sprigs mint, 5 rose hips, and 10 squawbush berries. Pour boiling water directly over water directly over tea mixture. Allow to steep for 5 to 20 minutes. Add honey; stir and enjoy. Note: This makes an excellent holiday gift for friends and relatives. Place ingredients together in a decorative jar.
Caution: Do not use during pregnancy.
Recipe 2: Fried Cambium
Harvest inner bark by stabbing tree with sharp knife. Cut a small square from tree. Remove outer bark, and shave off strips of cambium layer. It will be white or cream colored. Cut into thin strips like french fries. Fry in hot vegetable oil and top with sea salt." (Morgan 237-8)
Medicine:
The resin was applied alone or in salves to boils, carbuncles, abscesses, rheumatic joints and aching backs. For dandruff, the pointed ends of the needles were jabbed into the scalp to kill the germs. The needle tea is rich in vitamins A and C. (Kershaw 37)
"(Flathead) Poultice of pitch and melted animal tallow or lard used for backache. Poultice of pitch and melted animal tallow or lard used for rheumatism. Boughs used in sweat lodges for muscular pain. Pitch warmed and used for boils and carbuncles. Needles jabbed into the scalp for dandruff. Needles heated and used for faster delivery on the placenta." (Moerman 410)
"(Navajo, Ramah) Cones with seeds removed used as a ceremonial medicine. Needles used as a ceremonial emetic. Compound decoction of needles taken for bad coughs and fevers. Compound decoction of needles taken for fever and bad cough." (Moerman 410)
"(Paiute) Poultice of dry, chewed pitch used on boils." (Moerman 410)
"(Shuswap) Plant used to remove underarm odors. Infusion of plant used as a wash for sick babies. Used in sweat houses to hit one-self at the hottest point." (Moerman 410
Other Uses:
"At prehistoric Bandelier, ponderosa pine was the predominant wood used for roofing supports, especially for the main cross beams, called vigas. It was preferred whenever straight-grained wood was desired for manufacturing such things as ladders or the backs of cradleboards." (Dunmire and Tierney 100)
"The pitch was chewed as gum, plastered in hair used as glue, burned in torches and used to waterproof woven containers. The light, soft wood has been used to make dwellings, fence posts, saddle horns, snowshoes and baby cradles." (Kershaw 37)
"(Hopi) Wood used to make kiva ladders." (Moerman 412)
"(Cheyenne) Pitch used to hold the hair in place." (Moerman 410)
---
Internet Resources